Severe pressures in hospitals this winter has seen thousands of operations cancelled, causing social care leaders to urge NHS bosses to 'start listening' and let care homes do more to help.
Elderly people are among those who are most at risk of illnesses such as flu during the winter months. NHS England has said hospitals, GPs, ambulances and other NHS services have been extremely busy between Christmas and New Year and have reported higher levels of respiratory illness and flu.
In the final week of 2017, the NHS 111 helpline received more than 480,000 calls.
Martin Green, chief executive of Care England, which represents independent care home providers, said: "The NHS Acute Trusts could significantly reduce winter pressures by establishing long-term relationships with independent care providers. The care sector has been saying this for years and yet again the NHS has not listened and is in yet another crisis".
Almost 5,000 people left waiting in ambulances
Health secretary Jeremy Hunt apologised to patients following a decision to postpone tens of thousands of operations in January because the NHS is struggling to cope with a surge in patients this winter.
Non-urgent treatments had already been cancelled until mid-January, but this has now been extended to the end of the month.
Handover delays outside A&E departments stop ambulances from getting to new emergencies. The handover of patient by ambulances at A&E departments is supposed to take no more than 15 minutes.
Almost 5,000 people were left waiting in ambulances outside A&E departments for one hour in the last week of December, as 12 hospital trusts revealed they had no beds free. These health trusts were operating at 100 per cent, well above the recommended 85 per cent.
'Elderly lady slumped in a chair the whole night'
Karen Huisman's 86-year-old father in Northern Ireland has a chest infection but had to wait more than 26 hours for a hospital bed. She says: "There were people on the floor, there were people sitting on chairs, most of them were elderly. There was an elderly lady that I remember very vividly who was slumped in a chair in her night dress the whole night. No one came near her. No one even put a blanket around her."
A&E staff can't move patients out of their department and onto hospital wards, because hospitals can't discharge patients from their wards into the community. Shropshire County Council is working with care homes to ensure patients don't stay in hospital any longer than necessary. The council is working to cut the number of patients delayed in hospital, known as a Delayed Transfer of Care (DToC).
At the end of December, Shropshire's A&E departments got hospital staff from other wards to help with the volume of emergency patients it received and had already commissioned extra beds in care homes, which are block purchased to ensure they are there when needed.
'Patchy picture' across England says NCA
The Shropshire-based care home The Uplands offers nursing and specialist dementia care. It is run by Marches Care and has been drafted in to help this winter. Mandy Thorn, the managing director of Marches Care and vice-chair of the National Care Association (NCA), which is made up of small-and medium-sized care providers says: "If care homes were more involved in local winter planning, which is actually a year-round issue, we would probably see less of a problem with DToC."
She believes this would be possible if they are "engaged early enough and sensible and respectful contract discussions take place – around block contracts at a price that reflects the additional support that short-term admissions require."
She says when it comes to care homes being used to address winter pressures it's "a patchy picture across the country".
"Smaller independent providers are not always considered when local authorities and CCGs get together to discuss their response to winter pressures. When health and care professionals get together to respond to hospital bed pressures, not every local area takes into account the residential and nursing beds that may be available."
Care homes see people return home within two weeks 
Credit: Alexander Raths/ Shutterstock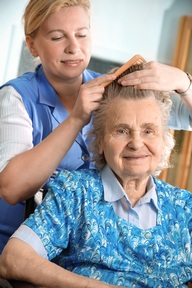 At The Uplands, her 81-bed care home in Shrewsbury, there are 15 short-term beds available for either Discharge to Access (D2A) or rehabilitation. Ms Thorne says the majority of people coming from hospital into a care home into a D2A bed, then either go home or enter a lower form of long term care. "When in hospital you are not in a setting where you are necessarily encouraged to mobilise and to be independent. In a care home, people are given time, their own room, encouraged to get up and get dressed. It's not about keeping people in a care home. We have seen people requiring only a couple of weeks to get well enough to go to their own homes.
"These services can't be provided with spot contracts. Locally, Shropshire Council offers block contracts. Their innovations in relation to the use of care homes to reduce DToC should be adopted by other councils."
According to figures from the Institute of Public Care, from April 2012 and April 2017, the number of care home beds available fell by 3,769. Add to this a major staff retention and recruitment problem in the care sector and the country's ability to respond to a winter NHS crisis gets more challenging.
Responding to criticism from the care sector that some care homes' beds are ignored in different parts of the country, Colin Noble, the leader of Suffolk council and health and social care spokesman for the County Councils Network, (made up of 27 county councils and 10 unitary councils), told carehome.co.uk: "I think it comes down to market intelligence.
"Every single day we are working with every single care home. It's a question of how much of a silo between CCGs [Clinical Commissioning Groups] and councils exists in an area. Local authorities know all of their care homes but that's not always the case for CCGs.
"It's a matter of CCGs using the council's market intelligence about care homes."
Care staff get greater job satisfaction
On 4 January, Prime Minister Theresa May denied the health service was in crisis saying: "The NHS has been better prepared for this winter than ever before." But in the midst of challenges facing the NHS and social care, the managing director of Marches Care is sure about the silver-lining opportunities that exist, that would make it less of a bleak mid-winter for all concerned.
Ms Thorne puts it simply. "Staff in my care home report increased job satisfaction because they see people admitted to us from hospital needing significant support who then leave to go home after a couple of weeks because they are well enough to return to their own homes.
"Long-term residents have also benefited because they can interact with a wider variety of people who come into the care home, and who by seeing people get better and go home they can be more motivated to do more themselves."