Irene Mickleburgh entered St Catherine's care home in Bolton in May last year needing end of life care. Now six months on, she has been discharged by the care home, after being well enough to go home.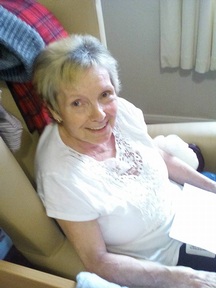 Irene Mickleburgh
Irene was admitted to the home in Horwich, with a grade 4 pressure sore, leaving her bedbound with poor mobility.
There were also fears that due to the extensive damage to her skin there was a danger that Irene could develop fatal infections, such as sepsis or gangrene.
Yet to the astonishment of her family and the staff at the home, Irene's pressure ulcer began to heal and with the help of an occupational therapist and a physiotherapist, she got out of bed and started using her walking frame and visiting other residents in the home.
Gillian Johnson, manager of the home, revealed: "These were huge steps that could not have been imagined when Irene first came to St Catherine's Care Home in May.
"To help support Irene's confidence and promote her dignity, our colleagues contacted a dentist who came to see Irene and issued her with dentures. Eventually Irene even felt well enough to visit the onsite hairdresser and even requested highlights."
After lots of encouragement from staff, her self-confidence increased to the extent that she joined other residents, relatives and colleagues in the weekly knit and natter group. Knitting is one of her favourite past times, and she helped the home to knit many items for the Christmas fayre, something she had not been able to do for a long time.
Irene became well enough to go for trips and meals with her family. She even managed to spend Christmas and New Year with her family, something she didn't expect to be able to do again.
Ms Johnson said: "As the final step in Irene's journey an occupational therapist was contacted to make the necessary adjustments at Irene's family home.
"A Multidisciplinary Team Meeting (MDT) was held with professionals dedicated to Irene's recovery, and it was decided that Irene could be safely discharged home to her husband and family."
On the day before Irene left St Catherine's care home and returned home, she wrote a post on facebook saying: "Well this is my last night in St Catherine's care home after being admitted last May on end of life care.
"I am now well enough to go home and I would like to thank all the dedicated staff and everyone who have made this possible and given my life back. All my love to my family and friends. I will always remember what you have all done for me."
Irene has "defied all odds", according to Ms Johnson, who calls it an "amazing story" and adds "sadly we don't often get this ending in a nursing home".